ARTS EVENTS SPONSORED BY

THE ISLE LA MOTTE PRESERVATION TRUST
MUSIC DIRECTOR, MICHAEL WATERS
ART DIRECTOR, MAURIE HARRINGTON
Dear Friends,
As many of you know, the Isle La Motte Preservation Trust has, for over two decades, sponsored a Cultural Heritage Program consisting of  first class concerts and art exhibits.   For years our cultural heritage events  have been held in a renovated "Horse and Carriage Barn" located at Fisk Farm on Isle la Motte.  Beginning in 2018, they have been re-located to another site - a beautifully renovated dairy barn  on the 82 acre Goodsell Ridge Preserve.
Though a series of very fine musicians and artists were scheduled for our Cultural Heritage events  in the summer of 2020, we were, very unfortunately, unable to present any of them because of the COVID pandemic.  Whether we are ablate resume these events in 2021 is, as yet, uncertain.  In the meantime we are leaving the arts programs scheduled for 2020 on this site,  to give you an idea of the excellence of these summer events. 
We hope to resume our Cultural Heritage Series in 2021.  Feel free to visit our website in the spring for news of our plans for the coming season.  Feel free to contact us at any time by emailing info@ilmpt.org.
Best to all, with hopes of seeing you in 2021.
Linda Fitch, President, Isle La Motte Preservation Trust
 July 2020
Date & Program to be announced
Pro-Series Concert
7:30pm

_________________________________
August 22, 2020
7:30pm

Quatuor Cobalt 
A  Memorable String Quartet 
with guest artist Mark Simons on Clarine)
First Violin, Guillaume Villeneuve 
Second Violin Diane Bayard
Viola, Benjamin Rota,
Francois, LeClerc
Program Details to be Announced
Advance reservations for each concert  are $25 and can be made by emailing info@ilmpt.org.  
Reservations for the two concerts are $45.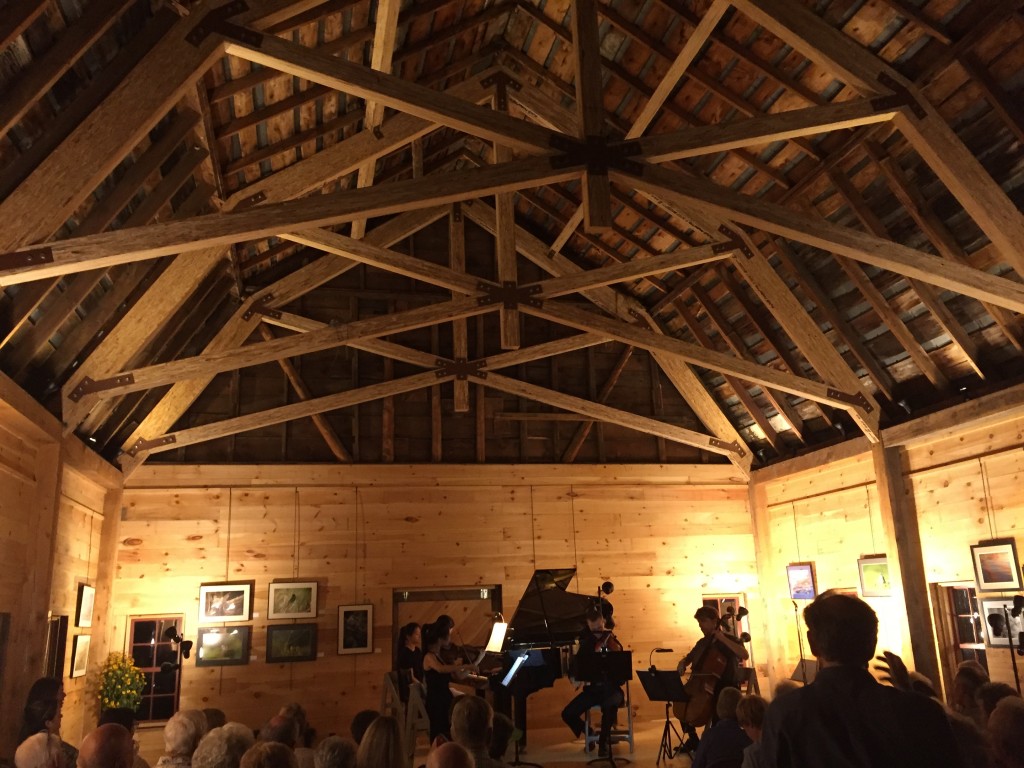 MUSIC, ART, & TEA ON SUMMER SUNDAYS
 FREE TO CONTACT US BY EMAILING   INFO@ILMPT.ORG)
Every Sunday in July and August  for the past twenty three years, art, music and tea was served at the historic Fisk Farm on Isle La Motte.  
In 2019 it was decided to move the summer Sunday tradition of  art and music on Isle La Motte, from Fisk Farm, a privately owned property, to a venue owned by the Isle La Motte Preservation Trust - the newly restored Conservation Barn at the Goodsell Ridge Preserve. 
If these events are able to be held in 2020 here is the current schedule:
 2020 Summer Sundays
Musical Performances 
2:00-2:25,  3:00-3:25, 4:00-4:25
Sunday, July 5 
Not yet scheduled
Sunday, July 12 
Judith Chasnoff & Dick Staber, 
vocal duo with mandolin and guitar
July 19 
Not Yet Scheduled
Sunday, July 26
John and Marge Butterfield
Folk, jazz, Caribbean, country popular
Sunday, August 2
Towne Meeting
 vocals, guitar, ukelele, mandolin
folk, country, acoustic rock
Sunday, August 9
Full Circle  
vocals, recorders, harp, guitar, percussion
Sunday, August 16
Barbara Sweet, soprano
with piano and guitar accompaniment
Sunday, August 23
Tin Penny-  Larry & Beth Walton
folk, blues, ragtime, and Americana
Sunday, August 30
Full Circle  
vocals, recorders, harp, guitar, percussion