Welcome
The Isle La Motte Preservation Trust (ILMPT) is a non profit organization founded in 1998, and based on Isle La Motte, Vermont, the northernmost island of Lake Champlain. We support efforts to conserve land, preserve historic island architecture, and support our local farms, working with partners such as the Vermont Preservation Trust, the Lake Champlain Land Trust, the Vermont Land Trust and the Vermont Housing and Conservation Board supporting An important focus of our work has been the conservation of significant sites of the 480 million year old Chazy Fossil Reef, a world renowned geological treasure, which underlies much of the bedrock of southern Isle La Motte. Two preserves protect the fossil outcrops, The Fisk Quarry and the Goodsell Ridge Preserve are research and education sites protected in perpetuity by conservation easements co-held by the Lake Champlain Land Trust and the Vermont Housing and Conservation Board.
Isle La Motte's Teddy Roosevelt Day takes place on the third Saturday of September.  It is an all-day, island-wide festival celebrating the Conservation of our Natural Resources, our Cultural Resources and our Agricultural Resources. For the complete schedule continue reading and  click on http://ilmpt.org/wp/?page_id=815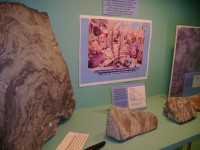 From September 4 to October 10 our Museum/Visitor Center will be open during the following hours: Saturday-10:00-4:00; Sunday 1:00-4:00. For special tours or other information email us at info@ilmpt.org.