ARTS EVENTS SPONSORED BY

THE ISLE LA MOTTE PRESERVATION TRUST
PRO-SERIES CONCERTS
Since 2002 ILMPT has sponsored evening classical concerts in the renovated Horse and Carriage Barn at Fisk Farm on Isle La Motte.  The concert proceeds have gone to support the Isle La Motte Preservation Trust.
Beginning in 2019, most arts events , previously held at Fisk Farm, will take place in the newly renovated Conservation Barn on the Goodsell Ridge Preserve.   We will continue our evening Pro-Series concerts  performed by top tier musicians, reveling in the wonderful accoustics of the Conservation Barn to say nothing of the beautiful Petrof piano - made possible by the generosity and talents of our Music Director Michael Waters. 
 Advance reservations for each concert  are $25 can be made by calling 802-928-3364 or emailing info@ilmpt.org.  
Reservations for both concerts are $45.
 July 20, 2019
Pro-Series Concert
7:30pm
Natalie Pang, piano  & Joe Hagen, viola
 At the age of thirteen, Natalie Pang blew the roof off of the Concert Barn at Fisk Farm on Isle La Motte, performing   with her sixteen year old sister Stephanie on the two Knabe grand pianos at Fisk Farm.  That was in 2008. 
She is still at it!  This year we are thrilled to announce that on July 20, 2019,  Natalie will return to isle La Motte to perform at the Conservation Barn on the Goodsell Ridge Preserve.
Natalie is now at Eastman Conservatory, studying piano with Alexander  Kobrin.   She started piano at 4 years old with Tina Kakabadze at the McGill Conservatory of Music in Montreal, Canada. Throughout the years, she has won numerous awards at competitions including First Prizes at the National Finals of the Canadian Music Competition and the Crescendo International Music Competition, and was recipient of the McGill Conservatory's Vera Black Scholarship. 
Natalie has performed around Canada and in the United States, including orchestral performances and solo recitals around Montreal and appearances at Weill Recital Hall in New York, the Pro-Series Concerts for Isle La Motte Preservation Trust in Vermont, and venues around Florida for the Rebecca Penneys Piano Festival and Miami Music  Festival. She has also been featured on the NPR classical music station WUSF 89.7. 
 Joe Hagen is a brilliant young musician who is currently the principal violist for the Eastman Philharmonic Orchestra and as a high-school grad was featured on WSYR-TV as 'extraordinary-talent-of-the-week', a program coming out of Syracuse, NY. He will perform with Natalie in a program including Vaughn Williams's Suit for Viola and Orchestra.
Joe Hagen says, "When it came time to choose an instrument in fourth grade, lots of kids picked viola and cello I chose the viola.  It sounded like a big instrument and I wanted to play it."  His experience, at a young age, working with some of the best violaists in the world, changed his life. Natalie Pang suggested him for our concert in July and we look forward to hearing this masterful young musician.
Their major work will be Vaughn Williams' Suit for Viola and Orchestra.
August 24, 2019
Pro-Series Concert
7:30pm
Phillipe Prud'homme, piano & Thomas Chartre´cello
Pianist and composer Philippe Prud'homme was born in Quebec in 1991. Starting relatively late as a piano student at the age of 12,  he graduated with distinction from the Conservatoire de Musique de Montreal.  Since 2009, Philippe has won seven First Prizes at the Canadian Music Competition, including the 2016 Grand Prix for all categories, (ages 19 to 30.) He has performed in numerous recitals and several orchestras notably with l'Orchestre de la Francophonie and the prestigious I Musici de Montreal among others. 
Philippe Prud'homme is a Canadian pianist and composer, born September 15, 1991 in Saint-Jérôme. In 2011, he finished with the highest distinction, a Masters in Performance at the University of Montreal, in the class of Dang Thai Son. As a soloist, he has won two first prizes at the Canadian Music Competition (2009, 2013), and a first prize at the Quebec Contemporary Music Society (2012). An active chamber musician, he also received first prize in chamber music at the Canadian Music Competition (2013) and the Classical Music Festival of Pierre-De Saurel (2013). Having started his musical training at the age of 12, he was admitted four years later at exceptional basis BA (without having completed high school). Since then, Philippe has occurred many times in recitals and has performed as soloist with many ensembles including the Orchestre de la Francophonie and the prestigiousI Musici de Montreal. He has collaborated with renowned conductors such as Jean-François Rivest, Yuli Turovsky and Jean-Philippe Tremblay.
Thomas Chartré began studying cello at the age of 3.  Since then he has been been a two-time recipient of a Sylva Gelver Music Foundation Award in 2013 and 2014 and has been called a "young Montreal phenomenon." He has won scholarships including from the Music Academy of the West in Santa Barbara, the Aspen Music Festival and School and the New England Conservatory in Boston.   He has performed in concert as a solist at the Kronberg Academy's cello festival in Germany and at Stanford University with its ensenble in residence and the St. Lawrence String Quartet. 
Among other works they will be performing Brahms Cello Sonata No. 1 in E-minor, Op.38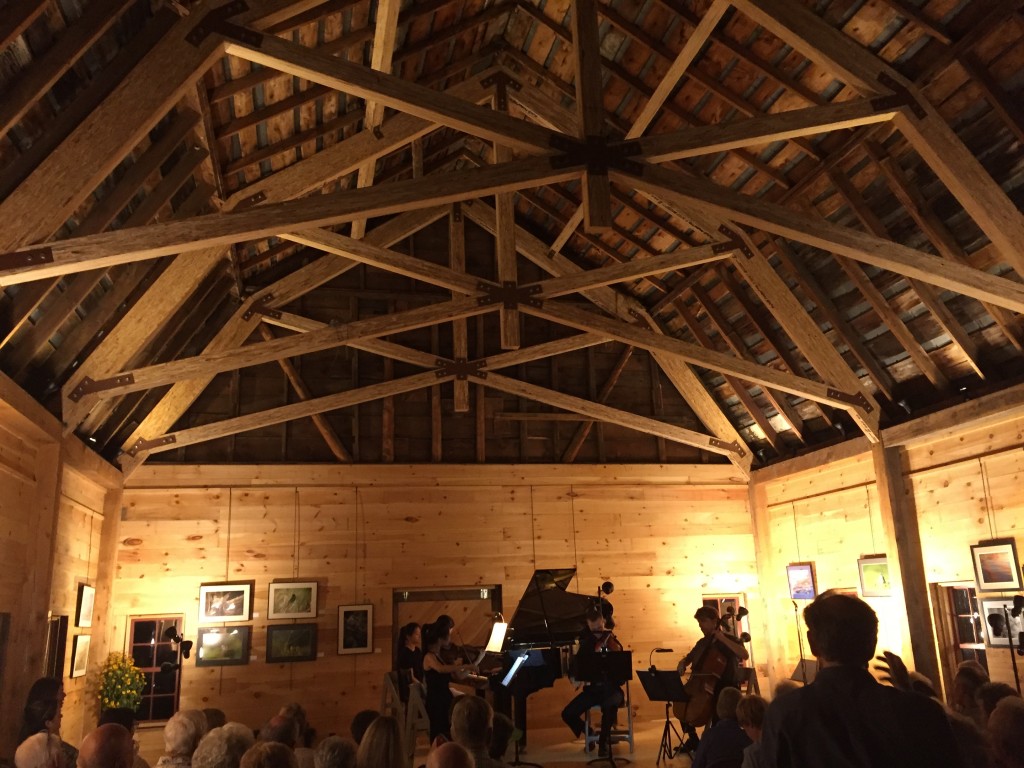 MUSIC ON SUNDAY AFTERNOONS
Every Sunday in July and August  for the past twenty three years, art, music and tea have been served at the historic Fisk Farm on Isle La Motte.  Musicans and artists from all over Vermont have performed and exhibited. Talented volunteers served  scones, cakes, and tea sandwiches.  Begun in 1999 the tradition evolved into an annual  fundraiser for the Isle La Motte Preservation Trust.  
This year it has been decided to move the summer Sunday tradition of  art and music on Isle La Motte, from Fisk Farm, a privately owned property, to a venue owned by the Isle La Motte Preservation Trust - the newly restored Conservation Barn at the Goodsell Ridge Preserve. 
ILMPT will host art exhibits which support our conservation mission. Many of the musicians which have performed at Fisk Farm over the years will continue the tradition of performances on Sunday afternoons in the Conservation Barn  Light refreshments will be available.  
And of course, along with their enjoyment of art and music, visitors  on Sunday afternoons will be able to walk the trails and explore the vestiges of ancient life in the rocks.  
2019 Summer Sunday
Musical Performances 
2:00-2:25,  3:00-3:25, 4:00-4:25
July 7:  John and Marge Butterfield
Folk, jazz, Caribbean, country, popular
July 14: Not yet scheduled
July 21: Tin Penny  Larry & Beth Walton
Folk, blues, ragtime, and Americana
July 28: Sweet Adelines
August 4: Dick Staber, Judith Chasnoff 
Vocals, mandolin, guitar, & dobro
August 11: Richard Ruane & Beth Duquette
Folk, jazz standards, traditional & original songs
August 18: Barbara Sweet
with piano and guitar accompaniment
August 25: Full Circle  
vocals, recorders, harp, guitar, percussion