The Isle La Motte Preservation Trust presents
The Arts at Fisk Farm
Linda Fitch, Executive Director 
Claire Durand, Music Coordinator
Michael Waters,  Music Director
Maurie Harrington, Art Director
Arts Schedule for 2018
(See below)
Nestled away in the south-west corner of La Motte, Vermont, the northernmost of Lake Champlain is a heritage site that once the home of the prominent Fisk who on past occasions hosted receptions noted politicians such as President and Vice President Theodore Roosevelt.
The once beautiful stone house, built in was ravaged by fire in 1923. Today the ruins are used in the summer as a Tea  The renovated Horse and Carriage Barn its two grand pianos, hosts concerts and and craft shows. These cultural events are presented by the Isle La Preservation Trust (ILMPT), a non-organization dedicated to preserving natural and cultural heritage of the area.
On Sunday Afternoons, throughout July August, music and art fill the barn.  "Tea" (lemonade, iced & hot tea, cakes, sandwiches and scones) is served in adjacent Tea Room.
Two evening Pro-Series Concerts during summer offer the very finest in music. Our two Knabe pianos and the acoustics of the old wooden barn make for unforgettable evenings of the highest musical quality.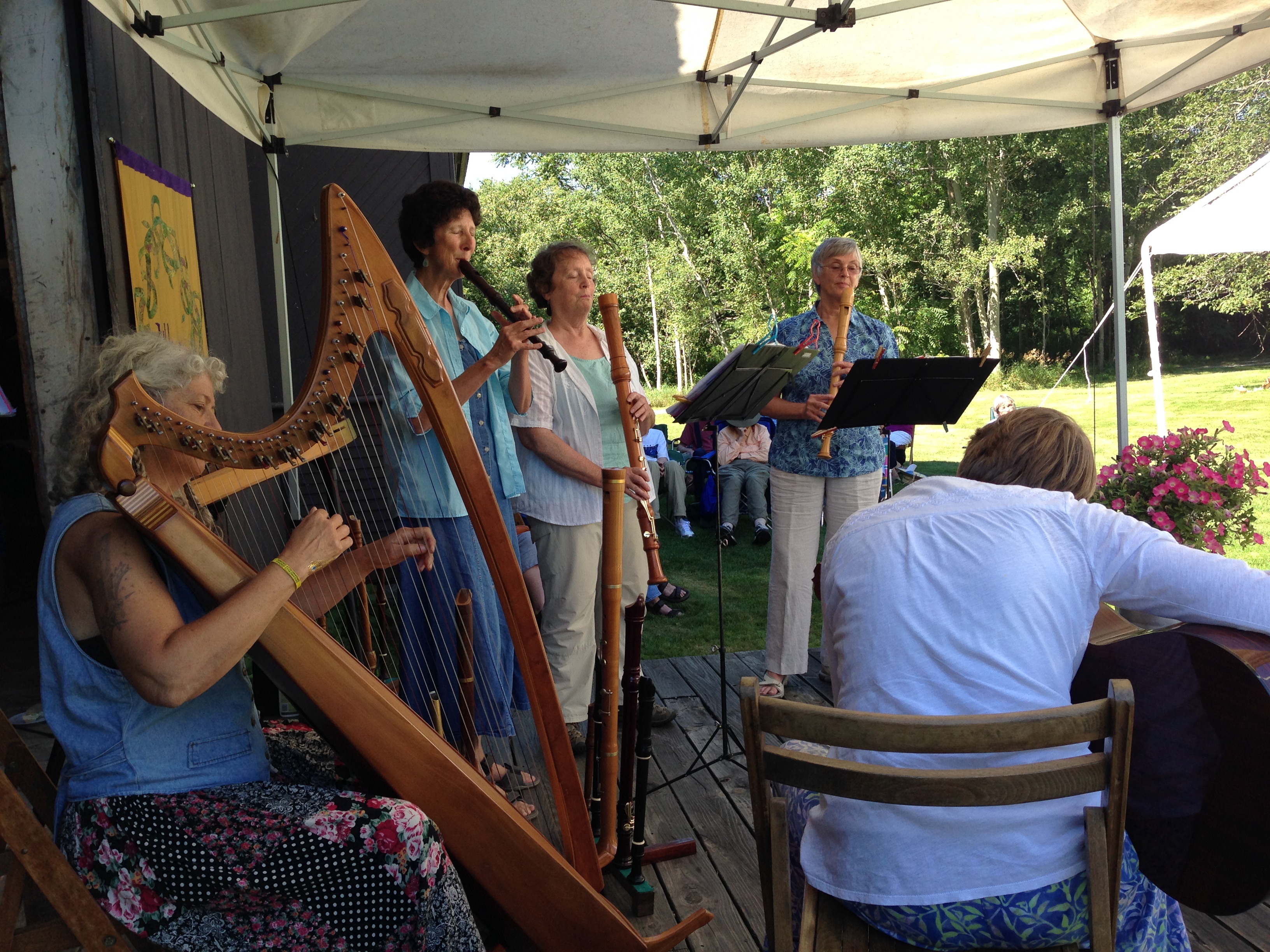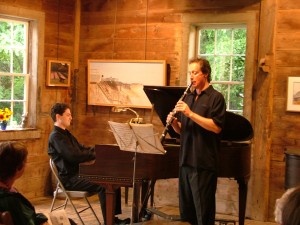 TEA GARDEN SUNDAYS
Serving Art, Music, and Tea
in the Barn and Gardens 
Saturday, June 9 4:00-6:00
Art Opening:
Susan Larkin Oil & Pastel
Sunday, July 1 1:00-5:00
Music: Richard  Ruane & Beth Duquette
folk, jazz standards, traditional & original songs
Art: Laurel Lhowe
 Sunday, July 8 1:00-5:00
Music: John and Marge Butterfield
Folk, jazz, Caribbean, Country, Popular
Art: Laurel Lhowe
Sunday, July 15  1:00-5:00
Music: Tin Penny, Larry & Beth Walton
folk, blues, ragtime, and Americana
Art: Laurel L'howe
Sunday, July 22 1:00-5:00
Music: Dick Staber, Judith Chasnoff, Daryl Smith
vocals, mandolin, guitar, & dobro
Art: Jonathan Hart, photography
July 29 1:00-5:00
Music: Green Mountain Horn Club
Art: Jonathan Hart, photography
August 5 1:00-5:00
Music: To be announced
Art: Kris Andrews, Fabric Art
Tobi Andrews, Quilts
Sunday, Aug 12  1:00-5:00
Music: Barbara Sweet, soprano
Art: Kris Andrews, Fabric Art
Tobi Andrews, Quilts
Sunday, Aug 19:00-5:00
Music: To Be announced
Art: Maurie Harrington, watercolor
Aug 26 1:00-5:00
Music: Full Circle
vocals,recorders, harp, guitar, percussion
Art: Marie Harrington, watercolor
PRO SERIES CONCERTS
Offering Music of the Highest Quality
July 21, Saturday, 7:30 pm|
From Klassics to Klezmer
featuring a special arrangement of
Rhapsody-in-Blue by Gerswhin
Mark Simons, clarinet
Matt Herskowitz, piano
(See Bios of the Performers Below)
August 25, Saturday, 7:30 pm|
STRINGS ON A SUMMER'S EVENING
Details of the program to be announced
Ladusa Chang-Ou, violin
David Montreuil, viola
Elie Boissinot, cello
 Tickets inside for each concert are $25 and outside on the lawn are $15.  Children accompanied by paying adults on the lawn are free.  Reserve early for limited inside seating.  And bring a picnic supper if you like.  The grounds at Fisk Farm open at 6:00.
Performer Bios
Mark Simons, clarinetist, was born into a family of musicians, Mark Simons was surrounded by classical music throughout his childhood. He studied classical music at Marianopolis College, McGill and Temple Universities, and then continued developing his expertise in different styles of music including modern, baroque, jazz and klezmer. His passion for chamber music has led to collaborations with many Canadian string quartets including Arthur Leblanc, Bozzini and Alcan. He has also performed with the Casal Quartet from Switzerland and has worked regularly with the Daponte String Quartet in the United States. He has been invited as soloist and chamber musician with Montreal ensembles including Les Boreades, Ensemble Caprice, le Quatuor Franz Joseph, ARION orchestre baroque,  and Clavecin en Concert.  Simons has also performed as soloist with l'Orchestre Symphonique de Quebec,  I Musici de Montreal. He has performed in recital and chamber music in Belgium, the United States, Colombia, Switzerland and Canada.
After hours, he has been known to join forces with the Gypsy and klezmer bands, Kaba Horo and Kleztory as well as with some of Montreal's Jazz pianists including Matt Herskowitz, Taurey Butler and Jan Jarczyk.
 Matt Herskowitz, pianist is a unique new voice from within the nexus of classical and jazz traditions.  A graduate of the Curtis Institute of Music and The Juilliard School, Matt is a brilliant young jazz pianist, a stunning interpreter of the classics and a composer of vast range and originality.   His deft layerings of jazz improvisation over written work have led him to many privileged collaborations. As composer, soloist and ensemble member, he performs and records regularly with Absolute Ensemble, a New York-based crossover contemporary chamber "band". Their first release on Enja records, Absolution, which features Matt as composer and soloist on Serial Blues, was nominated for a Grammy in 2001. 
Matt was also featured on the Swi¡ss television series Melting Pot New York on the recording of Serial Blues. Matt's first solo recording, Gabriel's Message (CCn'C Records), features his original arrangements and compositions based on Christmas themes, and has received world-wide critical acclaim. In 2004, Matt's solo video-taped recording for the BRAVO channel was first aired. His performance features a mix of his original music and arrangements in jazz, pop and contemporary classical styles. It has been aired several times since on BRAVO.
As a winner of the Pro Piano Recital Series Competition, Matt gave his New York debut as a classical pianist in 1994 in Weill Recital Hall at Carnegie Hall. Also winner of first prizes at the 1997 Orford Festival International Piano Competitioflns, Matt's performances there led to a recording of Glazunov's Piano Concerto no. 2 with I Musici de Montreal for Chandos records in 1998. Matt currently resides in Montreal, and tours extensively throughout Europe and Canada in solo recitals and with the Herskowitz Rozenblatt Project, a group which features original music and arrangements by himself and drummer David Rozenblatt. 
They have performed in Germany at the Hamburg and Bremen International Music Festivals, in France at the Rhino Jazz Festival, and in New York City, presented by the Lyric Chamber Music Society of New York, all to critical acclaim. Upcoming concerts with the group include crossover performances with the Philadelphia Piano Quartet in March 2005. Matt performed at the RIDEAU showcase in Quebec City this past February, where he won two prizes for his performance; the Prix Galaxie, given to best emerging artist, and the Prix SODEC.